Canada Engines is one of Canada's largest retail automotive engine remanufacturing plants.
You may ask; "What is the difference between a "Remanufactured Engine" and a "Rebuilt Engine"? Simply put, a "Remanufactured Engine" goes through many more processes to ensure they are built to exceed the specifications of your original engine. We use only top quality new name brand parts and control quality of machining these engines as it is done in our very own machine shop.
Because we specialize in engine remanufacturing, not only do we have the specialized computer controlled machinery to build a reliable engine, but we also have a large, highly skilled and experienced staff that are familiar with all types of engines. This ensures that your engine is built to be reliable and economical and we back that with our great Warranty. Contact our Office for full details of the Warranty details for your repairs.
We strive to serve our customers with honesty, integrity and unmatched automotive service.
For your reference, we have created a list of engines for you:
Click here to check out the list of engines...
Some of the complete engines we have in inventory in our huge shop...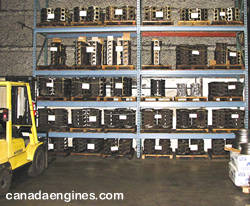 100's of remanufactured engines - short and long blocks

100's of remanufactured engines - short and long blocks
Ford 302 cubic inch performance engine



Computerized
machine shop




The popular Chevrolet smallblock 350 ci or 5.7 liter engine is found in many cars and trucks...



We have 100's of engines in stock